HENRY // Camera Strap / Genuine Indonesian Batik
Delivery Time 1 - 3 Business days
[EN]
Fashionable and tough camera strap outfitted with a covering made of genuine Indonesian batik from Java.

[DE]
Modisches und robustes Kameraseil veredelt mit einem Bezug aus original indonesischer Batik aus Java.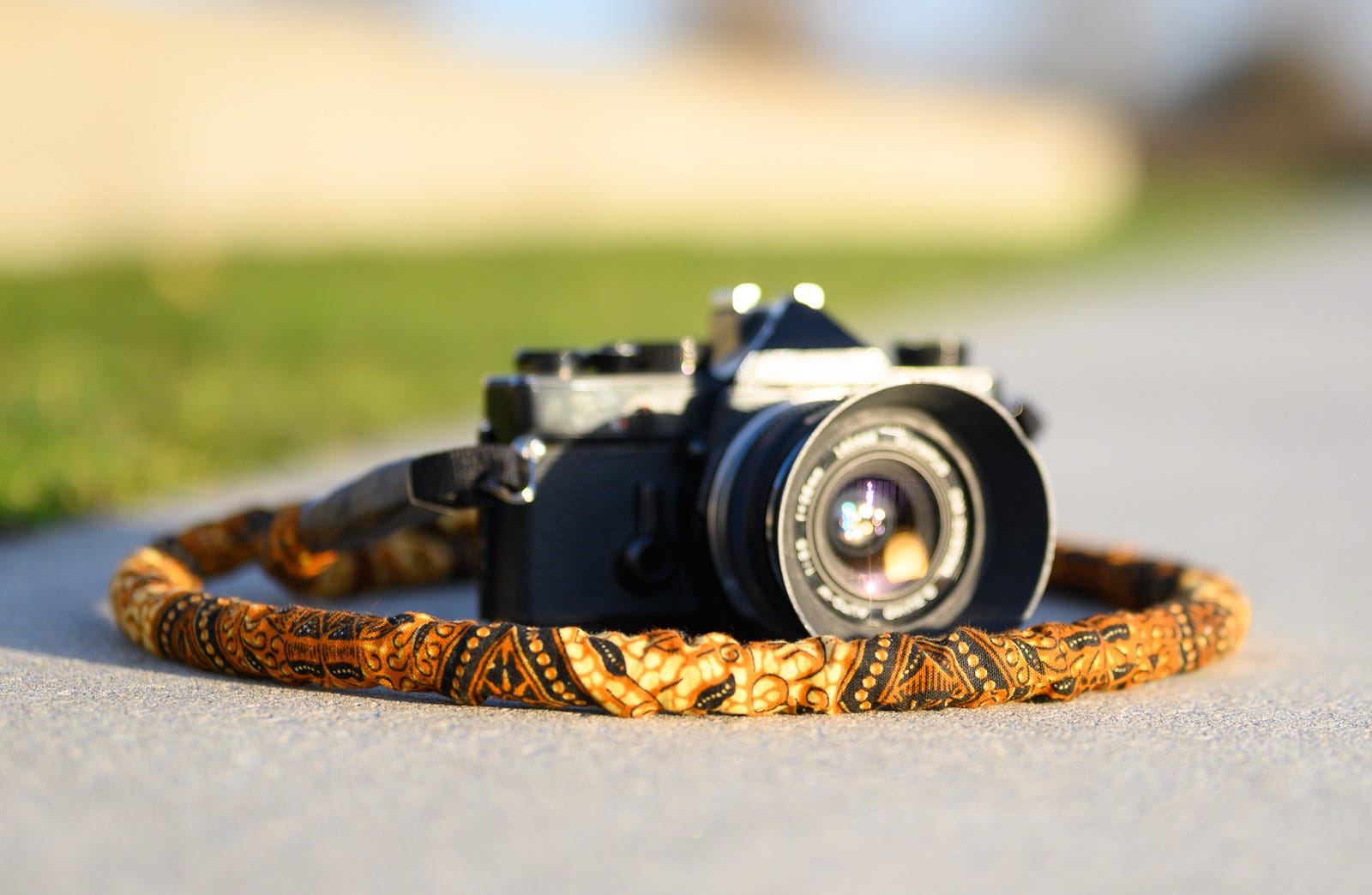 Product Information
[EN]
Camera Strap outfitted with a covering made of genuine Indonesian batik from Java. For DSLR and analog cameras with corresponding mounting eyes (which are the most).
Core made of strong climbing rope; diameter: 10 mm.
Lenghts vary from 100 cm to 130 cm.
Round or triangle shaped ring for mounting to camera.

[DE]
Kameraseil mit Bezug aus original indonesischer Batik aus Java.
Für digitale und analoge Kameras geeignet, die entsprechende Befestigungsösen aufweisen (was die meisten tun).
Kern aus hochwertigem und strapazierfähigem Kletterseil; Durchmesser: 10 mm.
Längen von 100 cm bis 130 cm.
Befestigungsring in rund oder dreieckig erhältlich.
[EN]
Order your camera strap in the length that suites you best. Depending on your height and how much elbow-room you wish you can choose between different lenghts:
100 cm
110 cm
120 cm
130 cm
As a guide: I am wearing a camera strap with a length of 120 cm being 1,85 m myself and having a slim physique. Even wearing a winter jacket it provides me enough space to easely move my arms and camera.
Also you can choose between round or triangle shaped rings to mount the strap to your camera.

[DE]
Du kannst das Seil in einer für dich passenden Länge bestellen. Je nach Körpergröße und gewünschtem Spielraum und bevorzugtem Tragestil hast du die Wahl zwischen verschiedenen Gesamtlängen.
Du hast die Wahl zwischen:
100 cm
110 cm
120 cm
130 cm
Als Anhaltspunkt: ich trage an meiner Kamera ein 120 cm langes Seil, das mir bei 1,85 m und schlanker Statur immer noch genug Bewegungsfreiheit bietet, selbst wenn ich eine Winterjacke trage.
Außerdem hast du die Wahl zwischen runden und dreieckigen Splentringen, um dein Kameraseil an den Ösen deiner Kamera zu befestigen.



[EN]

Camera strap "HENRY"
For you your camera is your absolute showpiece?
Then give it an upgrade with my exclusive and comfy camera straps. They are hand-made and outfitted with genuine Indonesian batik from Java.

Genuine batik from Indonesia
The coverings are made from genuine Indonesian batik from the island of Java. I bought these fine fabrics when I was in Yogyakarta back in 2016. Local students took me to a big market in Marlioboro Street where I found tons of different batik fabrics from all over Java. Yogyakarta is considered the cultural capital of Indonesia and is home to many creatives and artists. The heritage of the diverse Javanese culture becomes visible in a vast variety of batik fabrics with countless colors and patterns.

Hand-made
All my camera straps are completely hand-made with lots of love and carefulness. I teamed up with my mum to craft these beauties. She is, very patiently, sewing together the coverings - and I assemble ropes, coverings, rings and belts to the final product.

Playful outside - tough inside
While the outside of the strap looks very playful and delicate it is after all a strong piece of gear.
The batik covering hides a strong and durable climbing rope with 10 mm in diameter.
In combination with strong belts and rings your camera is to any given time safe and sound.


[DE]

Kameraseil "HENRY"
Für dich ist deine Kamera dein absolutes Lieblingsstück?
Dann gib deiner Kamera einen individuellen Look mit meinen exklusiven und komfortablen Kameraseilen. Sie sind handgefertigt und mit original indonesischer Batik aus Java bezogen.

Original Batik aus Indonesien
Der Bezug ist aus original indonesischer Batik von der Insel Java. Erworben habe ich die feinen Stoffe in Yogyakarta als ich 2016 im Rahmen einer Exkursion mit einheimischen Studenten auf einem großen Markt in der Malioboro Street war. Yogyakarta gilt als kulturelle Hauptstadt Indonesiens und beheimatet viele Kreative und Künstler. Das Erbe der vielfältigen javanesischen Kultur wird in einer reichen Auswahl an Batiken sichtbar, die die verschiedensten Farben und Muster aufbieten.

Handarbeit
Meine Kameraseile entstehen komplett in Handarbeit und werden mit viel Liebe und Sorgfalt gefertigt. Dafür habe ich mich mit meiner Mum zusammengetan – sie näht mit viel Geduld die Bezüge und ich bringe den Bezug, die Gurtschlaufen, die Blenden aus Schrumpfschlauch und die Splentringe am Seil an.

Verspieltes Äußeres – robustes Inneres
Der verspielte und filigrane Auftritt meiner Kameraseile soll nicht über seine robuste Konstruktion hinwegtäuschen. Im Inneren verbirgt sich ein belastbares Kletterseil (Durchmesser: 10 mm), das mehr als genug Reserven für jede gängige Kamera bereithält. In Kombination mit den ebenso hochwertigen Gurtschlaufen und Splentringen ist die Sicherheit deiner Kamera zu jeder Zeit gewährleistet.
[EN]
The patterned batik covers are cut from big pieces of fabric and then sewn together. Due to this fact colors and patterns of the final product can vary slightly from the ones shown in the product photos above.
If you would like to have an exact impression of the available covers send me a message and I will gladly provide you with photos of them. Just mail me over here: hello@jacques-fou.de

[DE]
Da die Bezüge aus großen Stoffbahnen geschnitten werden, kann die Verteilung der Farben und des Musters von den Produktfotos abweichen. Wenn du vorab einen genauen Eindruck von den noch verfügbaren Bezügen gewinnen möchtest, sende mir eine persönliche Nachricht und ich schicke dir liebend gerne Fotos davon zu. Einfach hier eine Mail schreiben: hello@jacques-fou.de